Susie Cordon (VS) of TSCC Faces Felony Charges
Susie Cordon, who also goes by "VS", formerly "VS Conscious" is the head of a group of online vloggers, YouTube content creators, and supporters who call themselves "Team Small Claims Court", OR "TSCC". This particular TSCC group appeared to be formed (on YouTube) in an effort to unite others against those who crossed Susie and those who crossed her allies.
On December 31, 2019 Susie appeared on a live broadcast on her YouTube Channel where she met up with another YouTube acquaintance at iHop in Dumfries, Virginia. There she encountered a 3rd party who she later attacked after that individual left the premises. The incident report which was posted on Friday, January 3rd is as follows:
On December 31 at 1:37PM, officers responded to investigate an assault that was reported to have occurred in a parking lot area in the 3900 block of Fettler Park Dr. in Dumfries (22025) earlier that day. The victim, a 44 -year-old woman, reported to police that she and an acquaintance, identified as the accused, were involved in a verbal altercation that escalated. During the encounter, the accused struck the victim in the back of the head, knocking her to the ground. While on the ground, the accused continued to strike and scratch the victim. Eventually the parties separated, and the accused fled the scene in a white Ford Explorer. The victim went to her residence and contacted the police. Following the investigation, officers obtained warrants for the arrest of the accused, identified as Susie Lillian Virginia CORDON. Attempts to locate the accused have been unsuccessful.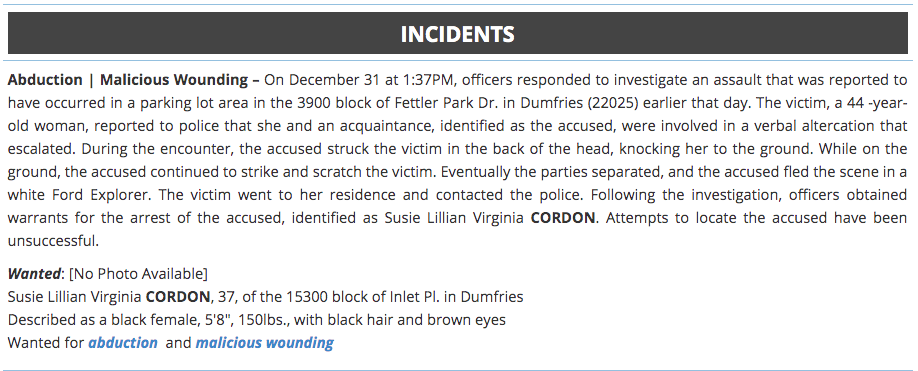 See – Prince William County Police Department – DAILY INCIDENT REPORT FOR FRIDAY, JANUARY 3, 2020 – https://www.pwcgov.org/government/dept/police/Pages/DIR010320.aspx
Susie went live around 4 am on Saturday, January 4th after the warrant was issued for her arrest. During her broadcast she stated that all was well. She encouraged supporters to send her money through her Cashapp and scheduled a live where she would talk about other topics (not relating to her warrant and the incident at iHop).
Reports began to come in that Susie was in custody on Saturday evening as YouTube content creators went live with the story. A YouTube channel titled "The YOUTUBE JUSTICE DEPARTMENT" reported this breaking news as he called the Prince William County Adult Detention Center on speaker phone and confirmed that Susie was indeed in custody. The detention center could not confirm how Susie came to be in custody (by turning herself in or by arrest). See the full broadcast.
At the time of its initial appearance, TSCC, led by Susie, became focused on YouTube content creator Larry Nelson. According to Mr. Nelson, he had been accused by TSCC of child abuse where they enlisted his daughter for $801 in compensation to share false stories of abuse on the TSCC platform. Larry has maintained his innocence throughout the ordeal and reportedly attempted to seek legal resolve against Susie Cordon.
In 2019, Susie Cordon began fixating on a well known YouTube content creator, Shawn Bradley. Shawn has been open about his foster parenting experiences and the positive effect he has on the children who are entrusted in his care. Susie accused Mr. Bradley of child molestation (amongst other things) and nicknamed him "John Gacy", even launching a "John Gacy Challenge" in June of 2019 on YouTube (#YTJohnGacyChallenge). The challenge reportedly encouraged others to make a video belittling, and in fact harassing Mr. Bradley. The winner was to receive a prize of $300. John Gacy was an American serial killer who raped, tortured and murdered at least 33 teenage boys and young men between 1972 and 1978 in Cook County, Illinois.  It appears to have been Susie's intention to damage Mr. Bradley's reputation by creating a narrative that involved comparing Shawn to John Gacy using her false allegations. 
See – John Wayne Gacy – Wikipedia – https://en.wikipedia.org/wiki/John_Wayne_Gacy
Additionally, Susie reportedly contacted the foster care system and made false reports in efforts to have Shawn's foster children removed from his home. Mr. Bradley made an attempt to obtain justice by filing a civil lawsuit against Susie in January of 2019, but has yet to have her properly served. Onlookers watched as Susie evaded process servers while filming live on her YouTube channel.
Another content creator, Fyebabe, reportedly did manage to obtain a restraint order against Susie Cordon after Susie made aggressive and vulgar comments regarding her daughter who is under the age of 10. Fyebabe has stated that she has sought to enforce her retraining order after Susie violated the order by continuing to harass her via YouTube videos.
More recently, Susie posted a photo of Treecey Liv'n my truth's deceased mother in her casket on her YouTube community feed. Susie did not only post it once, but she continued to post the photo multiple times over the course of several days with hateful, taunting captions.
Other YouTube content creators who've been harassed by Susie include Heidi Snow Fly, Nicole Tyler, S_Hutchinson, and others. The harassment includes doxing, threats, cyber bullying, contacting state agencies, employers, and family members in efforts to harass her victims.
A petition was started in 2019 on Change.org petitioning YouTube to make it easier to report such harassment using Susie Cordon's behavior as the primary example. The petition is still actively being signed with 3,000 signatures and counting. You can view and sign that petition here:
YouTube, Make It Easier to Report Stalking, Harassment, Slander and Terroristic Threats
At the time of this posting, Susie Cordon is to be charged with abduction and malicious wounding, both of which are classified as "Violent Felonies" and ineligible for bond according to the Virginia State Magistrate Manual Bail Procedures.  She is to be arraigned at 9:30 am on Monday, January 6th.
If you are interested in following this developing story, subscribe to The YOUTUBE JUSTICE DEPARTMENT for updates.  Jason, the owner of that channel has been reporting and discussing the developments of this situation consistently.
Please note, I have no affiliation with the aforementioned YouTube content creators.