Did Curiosity Kill "Cats"?
I found most of the reviews I read for Cats disheartening, because as a child I loved this melancholious story and its' uplifting music.  I saw the musical at the age of nine, and remember the "cats" appearing in the aisle of the theater as they sang and danced their way to the stage. The powerful bass, the flowing string runs projecting from the pit orchestra, meshed with the singing of each song, played a significant part in my positive experience.  So what were all these negative reviews about?
I initially said I wasn't going to see this movie because I didn't want to have my wonderful childhood memory of Andrew Lloyd Webber's musical destroyed. But I couldn't stay away… I was curious!
I've given the bad reviews the benefit of the doubt, because I imagined that most people who have seen Cats (the movie) have never experienced Cats in the theater. So along with my two reluctant movie companions, I went (dragged them) to see Cats. I was excited once the movie started and the familiar songs had me dancing in my seat and lip syncing (I would say annoyingly, but the theater was near empty).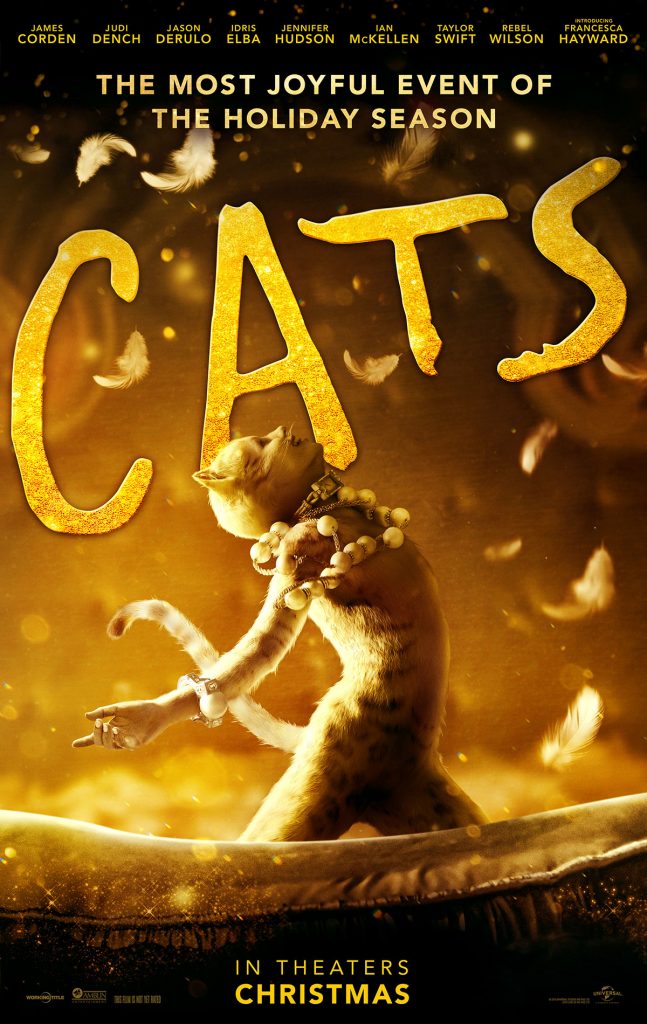 "Beautiful Ghosts" gives us a poetic explanation for Grizabella's emotional condition and provides one missing link to many in this tale.
I have nothing but positive feedback for the cast who all performed well.  I loved Jennifer Hudson as Grizabella and Taylor Swift as Bombalurina.  Jennifer Hudson's soulful voice and natural beauty put a familiar face on a character that most wouldn't be able to identify with due to the manner in which the story is told.  Taylor Swift swooped in like a knight in shining armor to give Generation Y and Z (the young audience) some eye candy and a good show!  Her performance was full of energy and she brought new life to the character she portrayed.  Unfortunately, her appearance was over half way through the movie, by which time I would imagine most had lost interest in trying to figure out what was going on in the script.
However, as was done with Les Miserables (the movie) I was hoping the story of Cats would be given a new life and told more comprehensively.  Aside from the new song "Beautiful Ghosts" which was written by Lloyd Webber and Taylor Swift, there's no clarification as to what's going on in the movie which I think many would have appreciated.  "Beautiful Ghosts" gives us a poetic explanation for Grizabella's emotional condition and provides one missing link to many in this tale.  The collaboration between Weber and Swift seems to create a bridge in the gap of generations since it was debuted in 1980.  However, I don't think this ceremonious occasion was recognized for what it was.
My young companion was interested in the movie, but could not understand what they were singing about.  A 10-year old should definitely be able to follow and enjoy this story from scene to scene.  But the scenes did not mesh together very well.  Anyone who was already familiar with the story of Cats had no problem keeping up.  But neither of my companions (an adult and a child) knew what was going on.  As we left the theater, they both had questions.  I literally had to go through the whole story again starting from the beginning where Victoria was tossed into the alley (by her owner) who had abandoned her.  
I honestly believe this movie would have done much better with narration.  Bringing musicals from the theater to the big screen can be exciting for those of us who are familiar with the music, story, and characters, but it's a bit of a challenge to engage a fresh new audience.  I think Cats (the movie) missed that opportunity.  
Following the movie, I was tempted to purchase tickets to take my two companions to see Cats on stage as it's touring the US in 2020.  But they were already thoroughly confused about the purpose of this movie and didn't even enjoy the music as I had hoped they would.  Perhaps if they had seen the musical first, they would have a different reaction to the movie.  
Overall, the music was accurate, the choreography was exciting, and the cast was well selected.  I was in awe of the costumes which had help from CGI technology.  Sadly, I think the movie falls short on transitioning from stage to film.  A lot of effort was put into the imagery, but more consideration should have gone to telling the story as well.  So to answer my own question, "Yes!" Curiosity killed Cats for me.  I would have been content not seeing this film.  But, I will definitely purchase Cats on DVD once available and add it to my movie collection as I am hoping it grows on me after a while… after all, it has 8 more lives right?